Nature inspires us to craft beautiful wooden timepieces that are one of a kind, just like you

Environmentally friendly and sustainable
We only use reclaimed or recycled wood from FSC-certified sources. We plant two trees for every watch sold

Made from natural, non-toxic materials
All of the wood we use is natural and the watch is assembled without the use of dangerous chemicals

Comfortable, hypoallergenic and light
Most of our watches weigh less than a golf ball, with a soft case and bracelet, ideal for those with sensitive skin

Reliable and precise time keeping
We only use the highest-quality Japanese or Swiss movements from well-known companies

One of a kind, just like you.
The natural grain of the wood makes every watch unique and different, providing a bold and distinct style

The perfect gift for your loved ones
More than half of our customers offer our watches as a gift to loved ones for birthdays or wedding anniversaries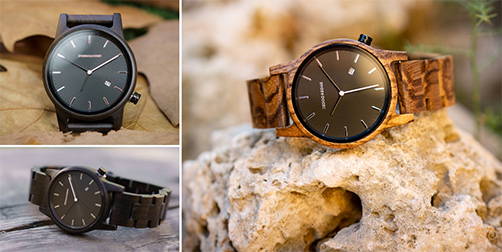 The watch arrived the very next day - in a sustainable and attractive box. It's exactly like the one in the picture and I think it's beautiful. It looks high quality and at the same time casual. The wood is neither coarse nor rough. I think the price is absolutely reasonable.
-- Sue

Essential watch at an economical price. It is my first wooden watch so I have no terms of comparison, but I really appreciate its lightness, the warmth of the case on the skin, the comfort of the canvas strap. The packaging is minimal but elegant, cylindrical in bamboo.
-- Marco
A great buy. The watch is superb, very "classy", light with a very beautiful design. Grandfathers will love it (!). It is also a very nice gift to give, inexpensive and chic.
-- Roger
Very good design, this watch is very original and light on the wrist. It is easy to wear and is very readable. Don't forget to remove the extra thin plastic film covering the dial. A perfect gift at a great price
-- Paul
Fantastic watch so light and smooth you don't even realise you're wearing it, sturdy and elegant design. Recommended.
-- Paul C.
Prompt delivery, very stylish, lightweight, comfortable and great value.
-- Olly
The mix of denim and wood materials gives it a modern and ecological touch; in the mood of time!
-- Auri
Nice, comfortable and different!
-- Harriet
Love the watch, colour and design r great
-- Alison
OUR COMMITMENT
TO THE PLANET
Sustainability is at the heart of everything we do. The wood we use is typically reclaimed or recycled and comes from FSC certified forests that are responsibly managed. We keep our carbon footprint in check and plant 2 trees for every watch we sell.
BUY 1 WATCH = 2 TREES PLANTED

SECURE PAYMENT & CHECK-OUT